Choicest Designer Dog Beds – The Perfect Choice for your Doggie
Long back none cared for dog beds and there was only a lack lustre attention. If Fido were to get his pile of worn out cloths and towels leave alone his own cushion and basket, it was considered lucky.The old order has changed and today we have a plethora of fun designer dog beds. You can identify the top names in dog comfort by reading further.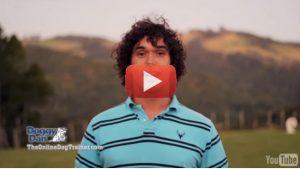 Watch A Demo Of Doggy Dan In Action
Click Here To Watch
Designer Dog Beds No.1- Eloise Dog Beds.
There are attractively beautified cushion beds in all shapes and sizes and very comfortable even for the most finicky dog. The range of colours and fabrics are from basic gray twill with a black bone decoration to velour beds in a soft range of pastels. Terry cloth beds in cheerful blues, greens, pinks and reds are available.
If you need a standard basket shaped bed, the dog can enjoy its sleep in ultra suede comfort on a cute striped cushion. Eloise beds cost between $ 120 and $ 200 depending on the size and shape you select.
2. Jax and Bones Dog Beds. This attracts all others by its dramatic colors of the suede covers. Among the choice are a retro 70s look, camouflage for the hunting dog Pink for the pampered lady, and several shades and stripes. You can even get a monogrammed bed for your dog. The price range is between $ 100 and $ 175 according to its size of the dog.
No.3 Mammoth Dog Beds
This designer bed can be chosen if your dog is more like Marmaduke than a Tinkerbell. These beds satisfy the needs of large and extra large dogs. Many ranges of shapes are available with a large donut bed, a bed couch, and a sofa bed. As a buyer you can select cushions of high memory fiber fill or thick orthopedic foam insert. Different colours are from light floral to navy blue. Prices are reasonable and range from $ 100 to $ 120.
Designer dog bed No.4 Bellatutu
This caters to small dogs wearing jewelry on their paws and ribbons in their furs. They have rarely gone out doors. The beds including the Devine sleeper and the midnight rely too much 3s3111on comfy cushions made of fleece, faux fur and tulle and lots of trimming on the outside. Bellatutu are made in Australia but can be bought over the internet prices range from $80 to $180.
Designer Dog Bed No.5 Haute Diggity Dog
You may not be the owner of a Hollywood limo or Ferrari but can get a Haute Diggity Dog on the other hand you can at least own Hollywoof limo or a Furrari. These tempting designer sleeping cars will excite you while putting your pooch squarely in the lap of luxury.
Ultra-plump poly fill forms the interior cushions. Covers can be removed and washed in machine. Different cars come with details like license plates to a Dom Perignon toy to go with the limo.These cars are made for small to medium dogs. They can be got for a breath taking $350 depending on where you buy. With these facts regarding designer dog beds, better you go out to buy one. The huge brown eyes of your dog deserve the best the very best.

| Why Your Large Dog Needs an Extra Large Dog Bed | How to Make Your Dog Bed as Unique as Your Dog | Five Fantastic Ideas for Selecting a Fleece Bed for your Dog | Learn these Fundamentals to Potty Train your Pet Dog Better | Know how a Heated Dog Bed can Give Blissful Comfort to your Dog | Make a Fashion Statement with a Juicy Couture Dog Bed | Kuranda Dog Beds the Undisputed Choice for Comfort | Leather Dog Beds The Durable Functional Choice | Luxury Dog Bed The Profound Way to Exhibit Your Love |